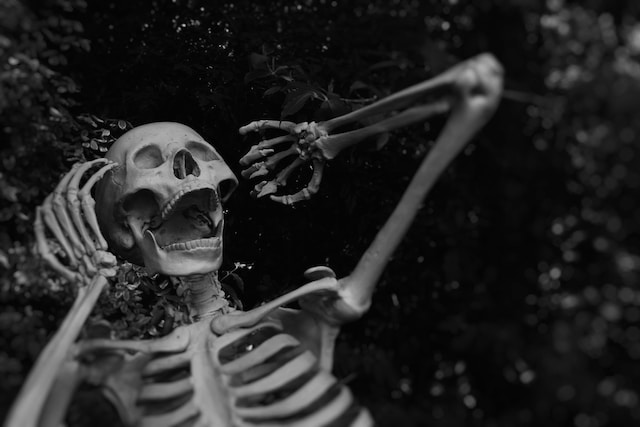 Photo: Unsplash
The Halloween season is almost here, which means that ghosts, ghouls, and eerie creatures will soon be taking over homes, yards, and balconies in honor of the holiday.
If you're looking for unique and budget-friendly alternatives to decorate your balcony this Halloween, instead of relying on the options available in stores, you can draw inspiration from creative DIY ideas.
+ 4 Feng Shui Tips for Spring at Home
Recently, TikToker Charlee, known as @buildandcreatehome, shared a simple and cost-effective idea: creating a cage for skeletons using laundry baskets and a 1-meter plastic skeleton. It's a project that's as easy to assemble as it is fun to decorate.
Most of the materials needed, including two laundry baskets, a plastic skeleton, spray paint, shower curtain hooks, and a chain, can be purchased at a dollar store for less than 100 R$ in total.
This idea is also versatile enough to complement your existing decoration, such as Charlee's recreation of a cemetery scene, or to be hung independently on your balcony, tree, or arch. It's also a great way to create a spooky atmosphere inside your home.
Creating the Skeleton Cage:

Start by spray-painting the baskets, hooks, and chain with black spray paint, or the desired color. Place the skeleton inside the baskets and secure them with three or four shower curtain hooks. Attach the chain to the top of the cage and hang it up. Charlee used a 1-meter skeleton, which fits perfectly into standard laundry baskets, but you can also opt for larger baskets and a larger skeleton to create an even more imposing cage.
Since this Halloween DIY project is budget-friendly, you can even create a group of different skeleton cages to hang in the trees of your yard. If you want to add a mysterious touch, choose a skeleton that glows in the dark or wrap the baskets with battery-powered LED fairy lights for a spooky effect.
You also have the freedom to add other elements both inside and outside the cage, such as autumn leaves, flowers, animal skeletons, spiderwebs, LED pillar candles, or votive candles, depending on your personal decoration aesthetic. Let your creativity flow and transform your balcony into a true horror scene for Halloween!
Source: HouseDigest
Stay updated through our Facebook page!