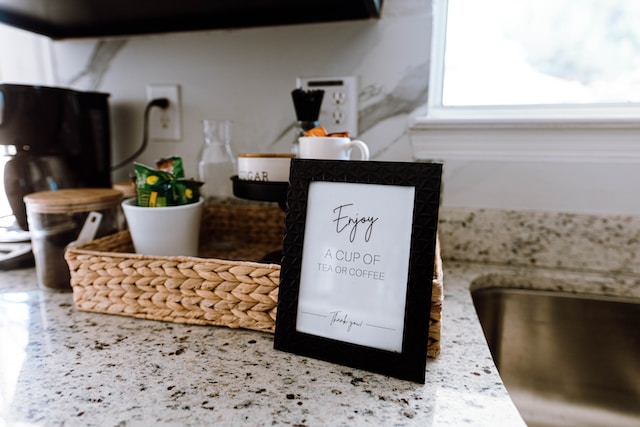 Photo: Unsplash
Whether you want to start your day with energy or take a relaxing break, having a coffee nook at home is an excellent idea. It can be not only practical but also designed to become a real focal point in your home decor.
In this article, we will explore seven tips from interior designers to help you create a functional and stylish coffee nook at home.
+ 4 Feng Shui Tips for Spring at Home
Choose the Perfect Location
Before you start decorating, choose the ideal location for your coffee nook. It can be set up in the kitchen, living room, office, or any place where you like to relax. Make sure it's a quiet and accessible space so you can enjoy your coffee comfortably.
Invest in Suitable Furniture and Accessories
Furniture and accessories play a crucial role in creating the perfect ambiance for your coffee nook. Opt for high-quality furniture, such as a small table and comfortable chairs. Add shelves or cabinets to store cups, coffee makers, and ingredients.
Select a Cozy Color Palette
The choice of colors is crucial to create the right atmosphere. Designers often recommend neutral tones such as white, beige, and gray to create a relaxing environment. However, don't be afraid to add pops of color with cushions, artwork, or plants to bring the space to life.
Decorative Accessories
Decoration makes all the difference. Hang paintings, place plants in elegant vases, and choose beautiful dishes to serve coffee. Thoughtfully chosen accessories can add personality to your coffee nook and create an inviting atmosphere.
Ambient Lighting
Lighting plays a crucial role in creating a cozy atmosphere. Avoid overly bright lights and opt for soft, indirect lighting. Table lamps, candles, and string lights are excellent options to create an inviting ambiance.
Choose the Right Coffee Equipment
A key element for your coffee nook is the coffee equipment. If you're a coffee enthusiast, investing in a high-quality coffee machine is essential. There are numerous options available, from espresso machines to French presses, so choose the one that best suits your taste and budget. Also, remember to include a coffee grinder if possible to enjoy freshly ground beans, which enhance the flavor of coffee even further.
Having the right equipment not only improves the quality of the beverage but also contributes to the charm and functionality of your coffee nook. Keep your utensils organized and within reach, creating a practical and stylish space to prepare your perfect cups of coffee.
Pay Attention to Storage Details
A well-designed coffee nook should be functional and practical. Therefore, do not underestimate the importance of smart storage solutions. Here are some additional tips:
Drawers and Baskets: Install drawers or baskets near your preparation area to keep utensils, filters, sugar packets, and other accessories organized and easily accessible.
Vertical Organization: Use floating shelves on the wall to display beautiful cups, coffee mugs, and even some coffee-related decor items like paintings or inspiring quotes.
Transparent Containers: Store your coffee beans, sugar, cocoa powder, and other ingredients in transparent containers. This not only keeps the ingredients fresh but also adds a visual touch to your space.
Space for Spices: Dedicate an area for spices like cinnamon, vanilla, or cardamom, allowing you to create your own personalized blends to flavor your coffee.
Remember that the coffee nook at home should reflect your personal taste and lifestyle. So, don't be afraid to customize the space according to your preferences. With these tips from designers, you're on the right track to create a cozy and stylish coffee nook in your own home. Enjoy relaxing moments and delicious flavors with every cup of coffee!
Stay updated on news through our Facebook page!